Bolokhiv's town. Hubin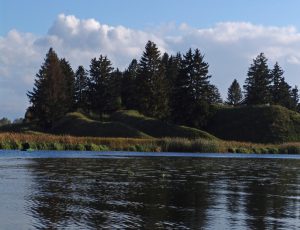 For those who are interested in history of Ancient Russ the village of Hubin is a good choise. It is a small village in Starokostyantiniv district where you can find the remains of 12th-13th century settlement. It is one of the best preserved settlements of its kind. These are the ruins of the annalistic town which was destroyed by Danilo Galitskiy in 1241. It was not renewed after the fire and only some period later a village appeared near that place.
It was mentioned for the first time by Antonovich V. in his research called "Archeological map of Volin Province" in 1901. The historian writes that Hubin is one of Bolokhiv's towns mentioned in chronicles.
The settlement is situated on the cape of two river the Ladizhka and the Sluch and consists of four fortified grounds on the territory of 4,6 hectares. Hubin settlement fortification system has few defensive banks and ditches with total length of 435 meters. Now it is the historical monument of national importance and a great archeological object of Right-Bank Ukraine.