Kamyanets-Podilskiy state historical museum-reserve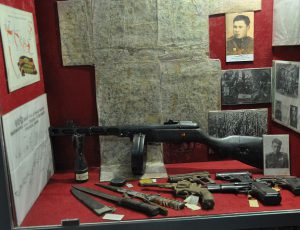 At the beginning of the year of 1890 they decided to organize ecclesiastical depository- the museum of antiquity. Since then its history started. Besides, we can say that the whole old part of Kamyanets-Podilskiy is the museum itself and it has already existed for nine centuries.
The total area of the museum is one thousand and a half square meters and it contains seven objects at its territory. Kamyanets is a unique combination of several cultures which seems to be never joined together.
The art gallery is a unique wonder for this provincial town. It has paintings of famous European artists as well as the works of talented local painters. A great collection of icons represents different schools of icon writing and describes many religious plots. Two-hundred-year-old portraits of local magnates are very well preserved here, too.
The ancient building of Town Hall is a symbol of Magderburg's Law presented to the town by Princes Koriatoviches in 1374. That is why you can find here the exhibition devoted to the town's self-government. The other halls are the place for coins and banknotes of different value. But the most unexpected mysteries wait for you in the underground halls. There you can find horrible instruments for tortures which were used by the middle-aged court with its Jesuitical methods of inquiry. At the square in front of the Town Hall your attention can be caught by the octahedral construction which was erected over the local well and called Armenian. It was carved in the rock in the late 17th century and had a depth of 40 meters and a width of 3 meters in diameter but the water in it appeared to be salty and improper to drink. Nowadays it is used as an exhibition hall of the museum.
The old fortress or the old castle is the largest and the most popular place with tourists. In fact it is one of the grandest fortification constructions which has remained since Middle Ages to nowadays. The castle has 11 towers and each of them has its own name and saves its own history. In different times it had different functions. It was a fortification construction as well as a garrison and a prison. Today it is a huge museum and you can spend more than one day here to explore its exhibits. To attract more visitors they spend night trips around the fortress and organize a quest called "Searching for the castle key". Moreover, they also have some legends about ghosts who live there in the castle and excite visitors' imagination.
You can admire the view from the castle walls to the old town with its great church domes, stone buildings and unique flavor of the town-cosmopolite, so called Podolian Babilon.