Minkivtsy's state. Minkivtsy.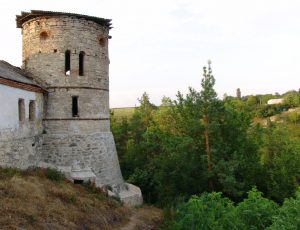 Minkivtsy's state was a unique phenomenon not only in Podillya but also in Ukraine and existed from the end of 18th century till the beginning of 19th century on the most territory of Ushitsa district. A route to this place can go through three villages of Minkivtsy, Otrokiv and Pritulivka and along the picturesque canyon of the Ushitsa River. The trip can take even few days.
At the beginning of 1780s Voicekh Scibor-Markhotskiy bought neighbour villages. Later on his nephew, Ignaciy (1755-1827), inherited all his possessions. In 1793 when Podillya was under the reign of Russian, Ignaciy Markhotskiy announced his territory as an independent "state".
The upper-class society of those days tended to call him a "great eccentric" but it was him who first abolished serfdom in 1801 and established local parliament with its own local laws. His unrecognized state had legislative, executive and judicial departments of government. With Ignaciy's efforts the village of Minkivtsy became a prosperous town with 4000 inhabitants who lived in nice houses with gardens. The town also had a hospital, factories, printing house etc. There were a lot of positive changes in nearby villages as well. Markhotskiy ordered to build four residences for four seasons. The best one was in Otrokiv and it was a castle in medieval style. The count of Markhotskiy was interested in mythology and ethnic religious so his peasants celebrated the harvest day and devoted it to the goddess of Ceres. Church didn't like him and everything he did and always tried to find the reason to arrest Markhotskiy. However, thanks to his friends' support and the approval of the emperor, Alexander I, who visited Minkivtsy's state and was impressed in 1818, the old count could continue his eccentric actions.
Unfortunately, only a little of Minkivtsy's state has left since then. There is an entrance gate to the mansion in the village of Otrokiv. There you can also find a household yard, a fence with towers which look like chess pieces, outbuildings and a castle tower. They all stand high above the Ushitsa river canyon facing the endless wide spread of the countryside. At the canyon bottom there is a village of Pritulivka which has quite a few ancient monuments too. They are as follows: a cave cell, count Markhotskiy's grottos and a three-storey mill. To understand Minkivtsy's state history we suggest visiting the museum in Minkivtsy and the best way to enjoy your holiday is to take part in annual ethnic festival or simply watch its performances.