Zhvanets- fortress on the Dnister.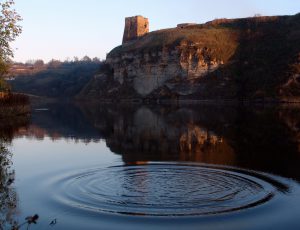 Zhvanets is a village which is situated on the high bank of the Dnister near the place where the Zhvanchik River runs into it. The village was first mentioned in the chronicles in 1431 as a small settlement but it had a very nice location which influenced its rapid growth and development. To defend this village its owner V.Kalinovskiy, built a castle there in 16th century. Later on in 17th century Zhvanchik suffered from wars because of the fortress presence in the village.
In 1621 this territory was a battleground for Polish-Turkish war. The Cossacks army with 40 000 warriors fought 150 000 ones of Turkish army which was considered to be unconquerable. But the inhabitants were also the victims of this war despite the victory of their army. Historians try not to remember this event, though.
Zhvanets and nearby villages were robbed by servants of Polish hetman despite that fact that military sergeants tried to stop them but it was too late.
After those unexpected events a new owner Stanislav Lyancskoronskiy tried to renew Zhvanets. King Vladislav IV, who witnessed this tragedy, gave the village Magdeburg Law, the right to held fairs and handed over the signet and coat of arms. But Zhvanets didn't have enough time to rebuild itself because in 1648 Podillya was again in a liberation war under the leadership of Bohdan Khmelnytsky.
Today there are only the ruins of the fortress. The powerful northern tower has left since then and the ruins can impress you while you are standing on the steep hill above the Zhvanchik River.