Crucians and Gobbies – Delicious Fish Menu Accent of "Pivdenna Brama"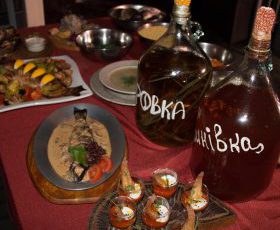 "Pivdenna Brama" is a restaurant, where guests are always welcomed. Even more so, when there is a chance to treat them with something really special. As it is a day when all the women with a name Tetiana ritually fete their name day. This holiday is celebrated in the restaurant "Pivdenna Brama" not for the first time. For this once it was decided to cook a fish-menu for women with the name Tetiana and all wishing to eat something delicious.
Why fish? Artem, the chef of the restaurant, explained the idea in the way, that women usually like seafood.
Traditionally, there was a staple fish soup "yushka". It was cooked with a fresh fish outdoors over an open fire. Waiters offered the guests to taste hot and hot fragrant soup in free cost.
The visitors also were treated with a snap – fried gobbies in tomato sauce. The dish was very delicious and looked alike. Even for gourmets it took some time to guess all the ingredients of the snap. It tasted like a home-style cooking, even better. There also were carp baked with vegetables, grilled carp, marinated silver carp with onions, river trout in a sour creme sauce and a fish soup with carp and millet in the restaurant. On the face of things these simple dishes suited the restaurant's festive atmosphere.
It is a magic touch to cook delicious and tasty treats with the simple ingredients. Housewives of Podillia always knew how to cook fish dishes. Culinary secrets were passed on from generation to generation. Chefs of "Pivdenna Brama" hold to the traditions, but also give weight to the modern trends. And duly cook with love.