Kamianets-Podilskyi Old Fortress in New Light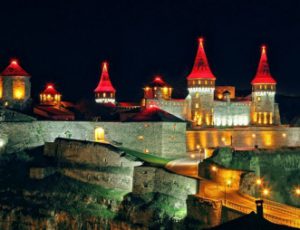 Old Fortress illumination will be replaced by the specialists from Poland and Vinnytsia.
Iryna Pustynnikova – the author of the website "Castles of Ukraine" and Oleksandr Zaremba – the Head of the Kamianets-Podilskyi State Historical Reserve Museum made such a disclosure on their Facebook.
In the report it is said that, they already have a consent from Poland's Institute of National Remembrance to help us with the illumination project.
Oleksandr Zaremba reported, that the first conversation of that kind, was during the visit of the Polish Deligation in August, 2016.
– We continued this very talks on our mission to Poland in September. Now we have an agreement on the visit of the Polish specialists to help us with the draft on, so to speak, "standards" of the European Union – the Polish give the mission at their own charge. We are responsible for the technical aspect. We also negotiate with the specialists from Vinnytsya. They're interested in this project too and going to interpose. This is the first step…,- said Oleksandr Zaremba on his Facebook.