Warfare outside Medzhybizh just as outside Kruty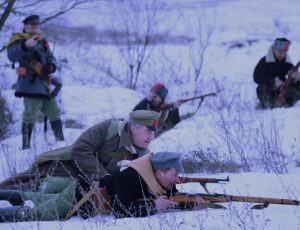 Over the weekend, 4-5 February, there was a historic reenactment of a century-old scene – the UPR-era, in the State Historical and Cultural Reserve "Medzhybizh". Members of the military-historical reconstruction club "Kudos" came to Khmelnytchyna from throughout Ukraine: Odessa, Kyiv, Vinnytsia. Costumed history amateurs had two fights in the fields just outside Holovchyntsi: the UPR troops and students fought against the Bilshovyk army of Muraviov outside Kruty; the cossacks fought against the red outside Proskuriv.
The scene was organized by the NPBCU Khmelnytskyi branch together with the Reserve Management, to take the segments of the documentary "Kruty. War Came into My Dreams", themed commercials and programs. Volodymyr Velianyk – an actor and film director took part in the shootings. He's planning to perform a play about Kruty soon.