Presentation of Kamianets-Podiskyi at the International travel market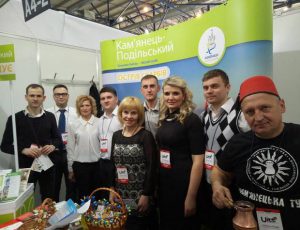 UITT-2017 "Ukraine – travel and tourism" – is the most important and large-scale event of Ukrainian tourism industry.
An opening of the exhibition was held recently at the International exhibition center in Kyiv. More than 300 companies from 30 countries took part in the event this year. Kamianets-Podilskyi also had its own stand next to Kyiv, Lviv and Ternopil. "Flower on the Rock" potential was represented by the social policy department team of the city council together with the deputy mayor Vadym Savchuk, hoteliers and restaurateurs working on the development of the city tourism.
For the first time in the venue among the participating countries were Albanian, Belorussian and Lithuanian stands. Companies from Greece, Israel, Morocco, Slovakia and Sri Lanka were represented again at the exhibition. This year the exhibition space was much more increased, says ukrinform.ua. Turkish regions such as Kusadasi and Kemer were featured on the separated stands.
Leading tour operators of the market attended the venue as well.