Carrying back to XVll century on the festival in Kamianets-Podilskyi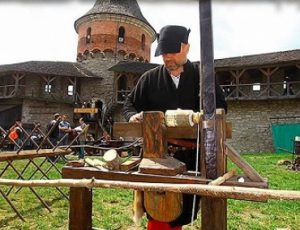 The 5th festival of experimental archeology "Archeological Picnic" will be held on the 22 of April in the Old Fortress. The goal of the project is practical study of the things that were common a few centuries ago, but are almost completely lost or drastically changed today.
The event will be held with joint efforts of Kamianets-Podilskyi city military historical society and Kamianets-Podilskyi state historical reserve museum.
Guests of the festival have a chance to see and try themselves as working at the smithy of XVll century, manufacturing torch, printing fabric, woodworking and calligraphy. There also will be a kitchen of XVll century on the festival.
"Interactive playground for young archeologist" – is an entertainment for the youngest. Children have a possibility to explore the whole archeological process from finding to exhibit.
Door money won't change during the festival.