New exhibition opens the first art centre in Khmelnytskyi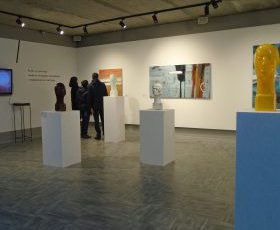 An artist-abstractionist from Kyiv – Olena Kuznetsova and a sculptor from Lviv – Taras Popovych exhibited their art in the gallery of MASLO art centre.
"How do you see this colour?" is a name for the first project of the new art centre. It showcases the creative endeavour of two artists, who have common traits. One of them is a peculiar eye on the colour, which Olena displays on the plane, and Taras – in the volume. Especially, the sense that the colour obtains in their works.
A team of experts from Khmelnytskyi and other cities was called to project MASLO, says promoters.
400 square metres is an area the new gallery is roomed in. Besides the exhibition, there are a reading room, a library, a terrace and a creative workshop in the art centre gallery.
MASLO is set to become a place for the citizens to be about the modern art, says an expert of the art centre – Kateryna Nosko. It is planned to accumulate creative individuals and to team up various initiatives here. Implementation of the exhibition and educational activities are the centre's areas of the focus. Educational one includes  the workshops, concerts and courses for children and adults on art, literature, cinema and music.
Art centre hours: on the workdays from 10:00 to 19:00 and on the weekends from 12:00 to 17:00.
One can visit the exhibition "How do you see this colour?" in MASLO till the 4th of April for free at the address: Khmelnytskyi, Starokonstiantynivske Shosse Street, 20/3.