So, if you are a tourist, you can visit some places of interest in Khmelnitskiy.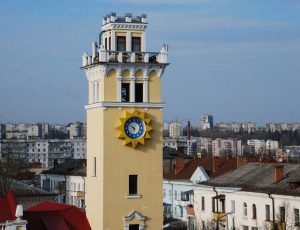 Proskurivska Street is the best place to start with. Its old buildings still remember their first owners with their restaurant and the orchestra of blind musicians, a chemist's, and a hotel which were housed at the address of 13 and 15, Proskurivska Street.
One more historic building is at 43, Proskurivska Street. It was a theatre in 1907. In 1919-1920 when national revolution took place in Ukraine, Government of People's Republic of Ukraine  and Directory used the theatre building to hold their meetings. Later, it was a place for Regional Drama Theatre and then House of Art.
The building at 46, Proskurivska Street was constructed in 1880s and it was a mansion of one of the richest people in Proskuriv Solomon Marantz. He owned a sugar-refinery and a steam mill. His mansion was the best in the town surrounded by a beautiful garden. In 20th century this building was a place for Pioneers' House and later for Puppet-Show.
There are also monuments to famous Ukrainian people such as Bohdan Khmelnitsliy, Taras Shevchenko, Ivan Franko, V.Chornovil, Grigoriy Skovoroda, Metropolitan Volodimir. And one more the most unusual monument is to Baron Munchausen.
Gagarina Street which is in the old part of the city can also impress you by its simple beauty and peaceful atmosphere despite that fact that only in some meters from it there is the busiest street of Khmelnitskiy. Two the most famous buildings are in this street. At 3,Gagarina Str. there is Khmelnitskiy Municipal Administration which was a place for Real College in 1904.  Almost in front of it there is a nice building which was constructed in 1903 and one of the local doctors owned it.  Now it is the place for the House of Ceremonies.