From Ploskiriv to Khmelnitskiy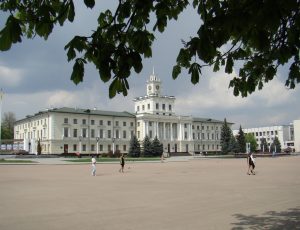 The city of Khmelnitskiy has the history of almost six hundred years and started from a small town of Ploskiriv which was first mentioned in 1431. The town appeared in the water meadows of the Ploska River and was named after it.
15th-16th centuries became important for the town because of the growth of different handicrafts and trade. Polish nobility owned the town and in the 16th century they built a wooden castle and Ploskiriv had the status of the town which was the place for three annual trade fairs and a weekly auction.
In 17th-18th centuries, one of the most famous Polish noble families, the Zamoyskies, owned the town about 150 years and since then the municipal emblem received three crossed arrows.
On 5th June, 1795 Podilllya was attached to Russian Empire and they formed Podillya province. One of its districts was called Proskurivskiy and its centre was indicated in the town of Proskuriv. There was not found any document which mentioned its renaming from Ploskiriv into Proskuriv. Nobody knows the real reason why it was renamed. Probably ,it was simply a mistake or even an intent. Later, in January 16th , 1954 Proskuriv was renamed one more time and now into Khmelnitskiy.