Maliyivtsy- French nook in Podillya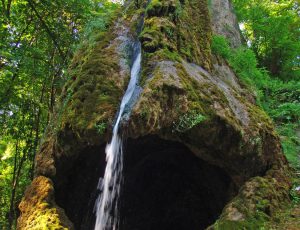 It is definitely the most charming mansion of all in the whole Podillya. It was built in 1788 by French architect Dominic Martinier. Its style of Louis XVI can still astonish anyone who visits this palace with its garden and territory nearby. The interior of the palace has almost the same décor as it had many years ago. Walls, ceilings, rooms have the remains of the former beauty. The main ball-room is decorated with old musical instruments.
The park around the mansion occupies about 17,2 hectares. There is an exciting waterfall below the hill on which the palace stands. Its water flows into the cascade of three ponds connected with each other. On top of the other hill there is a spring which gives water to the waterfall. It had also been the place of the abbey long before 17th-18th centuries.