Khmelnitskiy regional academic puppet theatre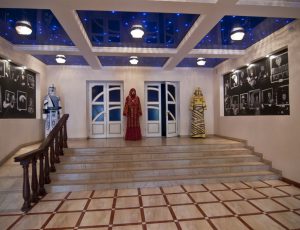 The theatre has a name "Wonder" and it really wonders everyone who visits it at least once. It started in 1970 in two rooms of Philharmonic society with the enthusiasm of its first director Sergiy Yefremov and few other actors. People thought that it was only a hobby for those who performed their plays and shows but actors proved their skills and became professionals. Some time later the Puppet Theatre moved to one of the buildings in the city center and later to the beautiful mansion of a factory-owner, Solomon Marants.
The theatre has gained its popularity by its ingenuous and philosophical art. Not only children like its shows but adults, too.
From the first years of its work the theatre became popular not only in Ukraine but in all the republics of former Soviet Union.
In the late 1980s the theatre received a new burst of energy because of two new men who arrived here and became a director ( Sergiy Brizhan) and a main artist (Mikhaylo Nikolayev). They gave a new birth to the Puppet Theatre. Now the theatre has more than 60 shows and each of them is a masterpiece.
In 2010 a new headmaster Alla Pundik organized total redecoration and made it even more attractive than before. The same year the theatre gained the title "academic".