Khmelnitskiy regional art museum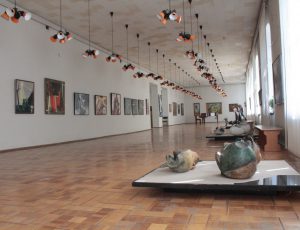 The history of this building started in 1903. It was specially built for Southern Russian Bank but it existed for a very short period of time. Later, some soviet establishments and editorial offices were located there and only in 1986 they decided to organize a museum here in this building.
Now it is a place where the art lives. The atmosphere of peace and quiet meets you there. Huge halls are full of pieces of art. They are speechless as it seems from the first sight. But if you spend a little time among them you can feel their spirit. In 1986 when this building became a museum there was nothing except for walls and ceilings which needed reconstruction. There was not even one exhibit and it was a special feature for this museum.
While reconstructing the building they decided to devote it to the modern Ukrainian art. As a result the museum has had 7000 exhibits which take the place of each other from time to time. The fund of the museum has the pieces of different art styles from realism to nonconformism. The Art Museum of Khmelnitskiy is famous for its initiative to discover new names of talented Ukrainian artists and make them well-known not only in Ukraine but also in the world.
Modern local artists and sculptors display their works in the museum and they say that sometimes see their own paintings and sculptures from the unexpected angle. It seems that the atmosphere of the building is not spoilt by the banknotes which stayed there many years ago.