Anna Akhmatova museum in Slobidka-Shelekhivska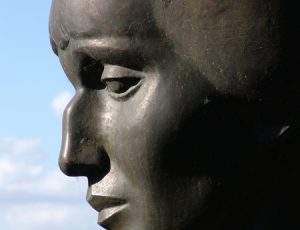 A small village in 15 kilometers away from Derazhnya is an ordinary settlement but it has two unusual mansions of pre-revolution period. One of them is a real palace which was a possession of the Novitskies landlords and the other smaller one is now Anna Akhmatova museum.
Many years ago Akhmatova's grandfather bought a mansion in this area and later, one of his daughters got married to the local landlord and started to live in the house which now is Akmatova museum.  Anna enjoyed staying there very much and visited this place a plenty of times.
The museum was opened in 1989 in the year of 100th anniversary of the poetess. Primarily, it had been decided to install the memorial plate on the wall of the house where she stayed but later they organized the museum.
Most of the exhibits of the museum were handed over by local villagers, some were sent from St.Petersburg and Moscow and a lot of them were gathered by its first administrator. As a result a rich exposition was made up and now it occupies two rooms of the mansion. Near the museum you can see a bust of Anna Akhmatova made by St.Petersburg's sculptor Viktor Zayk.