Netishin local museum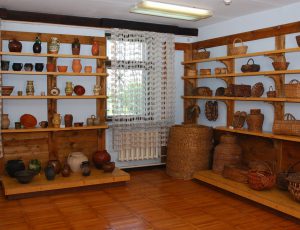 A local museum of Netishin is situated in a building in a wide Avenue of Independence. It has 18 rooms for exhibits of local history and presents different information from times of early geological periods to the latest history of Netishin and its outskirts.
One of the most interesting halls is the hall where local natural vegetation represented. The Paleontology Hall has a very rare coral which is the biggest in the world and some more different minerals are also displayed here. The archeological collection of the museum is also rich in exhibits which present different epochs from early Paleolith till 17th century. Bronze era, for example, is represented by unique weapons, jewellery and utensils. A numismatic exhibition has a collection of coins and banknotes of various historic times from ancient Roman and Greek coins to one-million-banknotes of the first years of independent Ukraine.
The special place in the museum is consecrated to the history of modern Netishin which is tightly connected with the construction and work of Khmelnitskiy Nuclear Power Station. A lot of pictures and newspaper articles witness its history. There are also special exhibits presenting protective clothing for nuclear station's staff .
Netishin museum is not only a place for unique exhibits but it is also an interactive establishment which practices in different forms of activities with visitors such as musical concerts, literary parties and meetings with scientists of Ukraine and Khmelnitchina as well as hiking tours through the pine forests of the district.