Letichiv. Catholic pilgrimage destination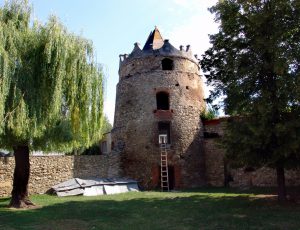 It is a district center in Khmelnitskiy region fifty five kilometers to the east from Khmelnitskiy. This town is ancient and has an interesting history.
First mention about Letichiv dates back to 1411. In 1429 the settlement received the status of a town and later became a district center. In 16th century Ian Pototskiy, the town owner built a stone castle and a part of it is still well-maintained. It was Pototskiy who built a grand cathedral and gave the shelter there to Dominican monastery in 1606-1638. The cathedral became famous for its wonderworking icon of Letichiv Holy Mother which was painted in the early 17th century and brought to the town by Father- Dominicans. Miracle-working strength of the icon was noticed by Ian Pototskiy right then and there during the Tatar invasion. Less than a year later people in the country talked about the icon. Since then Letichiv icon became the amulet for religious people of Podillya. To save the icon from Bolsheviks it was carried out to Poland. These days the icon of Letichiv Holy Mother is kept in Lublin and Podillya's people dream to return the sacred thing to renewed Letichiv monastery.
Supreme Pontiff John Paul II announced July, 6, the Day of Liturgical Commemorating of Letichiv Holy Mother. Every year thousands of pilgrims from Ukraine and Poland go to Podillya to commemorate the wonderworking icon.
Next to the walls of the monastery there is a monument to Ustim Karmelyuk, a legendary folk hero whose name is tightly connected with Letichiv district.
USTIM KARMALYUK. The depression of serfdom led to active riots among Ukrainian peasants. The most numerous and legendary was national liberation movement under the leadership of Ustim Karmanyuk in the early 19th century. His character is well-known in the folk literature of 19th-20th centuries by the surname of Karmalyuk. Ustim was born on February, 27, 1787 in the village of Holovchintsy, Lityn district (today it is the village of Karmalyukove in Vinnitsa region) in the family of a serf and belonged to Piglovskiy, a landlord. Ustim disobeyed the landlord and in 1812 he was sent to the lancers which stood in Kamyanets-Podilskiy. In 1813 he and Danilo Khrin escaped from the army to Letichiv district. In 1835, October, 23 Ustim was killed by Rudkovskiy, a noble who organized an ambush in the village of Shlyahovy Korichintsy( today it is in Derazhnya district).
A body and his things were brought to Letichiv. In a journal of a district police court it was written "A glorious footpad Karmanyuk ended up his life. He was punished three times by rods and three times by a lash. He was that man who escaped from hard works three times and had risen the country in revolt, who had extraordinary and almost impossible relations and people had almost superstitious faith in his strength and power."  It is a historic fact that his units committed more than thousand raids during 1813-1835.
So it is not out of ordinary that his character inspired writers to create dozen of stories in Ukrainian literature as well as people made their own legends and songs about Ustim Karmalyuk.
His surname was changed from Karmanyuk into Karmelyuk or Karmalyuk in those folk stories and it is officially recognized. He was an idol and national hero of those times despite the fact that a lot of information was simply imagined by people.