"Garden in European Street" Restaraunt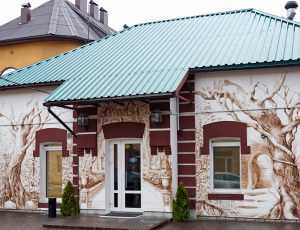 Do you think pear drink with black pepper and rosemary is tasty? How about mashed pea with mint? Believe it or not – it is delicious. You can satisfy yourself having a visit to the restaurant called "Garden in European Street". Pear drink is for sure only one amongst many. A lot of delicious dishes are offered here for both an exclusive gourmand and a fan of traditional cuisine. First one fancies duck with pearl barley porridge stewed in orange fresh (absolutely new dish), the other one chooses grilled beef tongue or mackerel from chef served with baked potato. Pita with houmous and baba ghanoush is worth trying because it is mouthwatering! The menu of the restaurant is not diversified but all the dishes are of the highest quality.
Pay special attention to salads and desserts. Each salad plate is quite big and its taste is special because of the exceptional sauce and ingredients which are often grilled. Apple tart with salty caramel sauce is something extraordinary as well as dessert with light cottage cheese from Aunt Zillah. As a result you can receive a bill for 150-200 hryvnias on average.
All in all, the main feature of this restaurant is its cooking. We can also add that it is in the city center very close to Maidan Nezalezhnosti ( Independence Square), though, in its quiet part in Evropeiska ( Europian) Street where you can find a place to relax. The atmosphere is calm and at the same time the interior is luxurious which is unique for the restaurant. Everything from the exclusive crockery to the ancient lampshade and small interior elements is special for your comfort and delight.