Mikhailivka.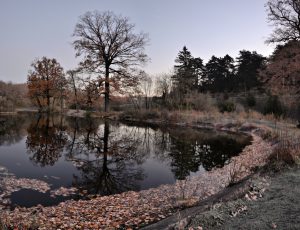 Henrik Sienkiewicz, a remarkable Polish writer is famous for being the Nobel Prize laureate in Literature 1905. He wrote his well-known novels "With Fire and Sword", "The Deluge" and "Colonel Wolodyjowski" (1846-1916). However, not many people know that he spent one summer in the village of Mikhailivka not far from Kamyanets-Podilskiy and was writing his novel "Colonel Wolodyjowski" there. Today it is the village of Dunayivtsy district in 3 kilometers away from Khmelnitskiy high road.
In Mikhailivka the writer stayed and wrote in a gothic castle which was a possession of the old Polish family of the Makovetskies. He used the library and archives and often visited Kamyanets-Podilskiy those days. He described Yerzy Wolodyjowski, the main character of the novel as a brave defender of Kamyanets-Podilskiy's fortress who came from Podillya and whose ancestors were from the Ukrainian families by flash and blood.
Mikhailivka of those times was a real garden pearl. Its owner Stefan Leon Makovetskiy (1860-1949) was a great landscape gardening designer as well as an author of many researches in botanic. Even though few samples of former gorgeous garden have left you can still find quite rare and exotic for our area bushes and trees like a cork tree.
The Makovetskies kept the room where the famous writer stayed without any changes. They took care of his things like his desk he worked at, his armchair he sat in, his pen and inkpot. Sad to say, the palace was demolished in 1917. Only the part of the park which is by the water has left since then and still has alleys where the writer went for walks…