"Ukraine-Rus Holy Places" exhibition in Shepetivka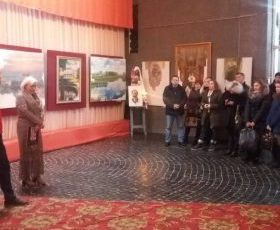 On the 15th of February "Ukraine-Rus Holy Places" exhibition of honored artist of Ukraine Leonid Gopanchuk (29.03.1955-05.09.2013) was represented in the exhibition hall of the regional literary memorial museum named after M. Ostrovskyi. Struk Neonila Oleksiivna – the artist's widow opened the exhibition. She is also a curator of the project.
Neonila narrated artist's life and career, his hobby, his tireless and full of search nature. "Ukraine-Rus Holy Places" art project is aimed at backing to the native roots, to Ukrainian holy places, which are the cells of national spirit. Under the project the artist conducted numerous expeditions, plain-airs, cultural studies and tried to combine his works with a series of etchings "Picturesque Ukraine" by T.G. Shevchenko.
All participants had an opportunity not only to get acquainted with the creative output of Leonid Gopanchuk, but to watch a video about the artist, and to get a catalog of his works for free. The exhibition will be on display until the 12th of March, 2017.