Want to try a Beijing duck or a Chinese black mushroom? Welcome to Mister Lo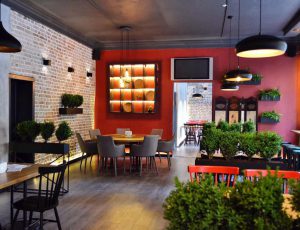 Last weekend a long-awaited culinary opening took place in Khmelnytskyi. "Mister Lo" a Chinese restaurant was launched. And, of course, we visited it. The restaurant is situated in the former Officer's Club.
Simple, but elegant interior is in dark gray and ocher colors. There are two halls, chandelier. And… big, although pilot, menu. On the menu one can find tofu with imperial mushrooms, sweet and sour pork (a Chinese classic of the genre), Beijing duck (even more classic) and traditional chicken soup with eggs. There are no sweet tomatoes on the menu, as they are served in Beijing. And rightly so, the tomatoes are likely to be out of Ukrainian taste! However, there is pretty enough of exotica. The portions are quite big. For example, a soup has 700 grams, so one can buddy up. Average bill is about 150-200 hryvnia. One more thing, only Chinese chefs prepare both great Chinese teas and dishes in "Mister Lo". The big red menu is waiting for you.